Graduating Seniors Visit Queen Creek Unified School District Elementary Schools in the Annual Grad Walk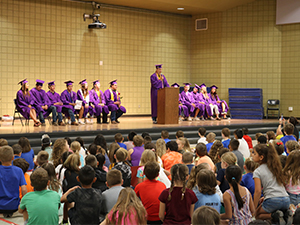 Graduation comes with a sense of pride, pomp and circumstance, and the excitement of taking the next step in life. One annual event in Queen Creek Unified School District (QCUSD) has provided another opportunity to celebrate seniors and inspire younger students.
The grad walk is now a tradition in QCUSD, where graduating seniors walk the halls of their old elementary schools to the cheers and excitement of younger students who will someday walk in their shoes.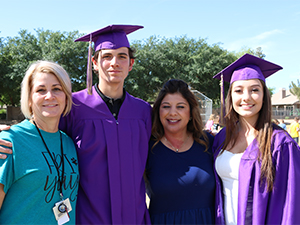 At each school the seniors are greeted with congratulations signs, chants, and cheers. Afterward, the seniors have the opportunity to speak to the schools, sharing words of encouragement, funny stories of their time in elementary school, and even thanking their old elementary school teachers.
"It allows our seniors a chance to go full circle," says School Counselor Lee Harmon who helps plan grad walk events. "It reminds them where they started, recognizing the people that helped them along the way, understanding the importance of giving back."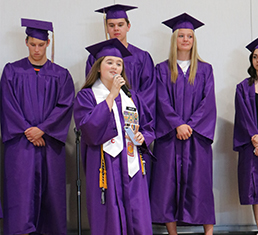 Many seniors spoke to students about the importance of being involved in their schools.
"Whether that is clubs, electives, or teams, I told them that getting involved makes your high school experience so much more fun," says senior graduate William Waddington.
Eastmark High's seniors will be having their own grad walk on Wednesday, May 18.
This year over 580 seniors will be graduating from QCUSD with Eastmark High's graduation on Wednesday, May 18 and Queen Creek High's graduation on Thursday, May 19.