QCUSD Students Sing the National Anthem at Diamondbacks Game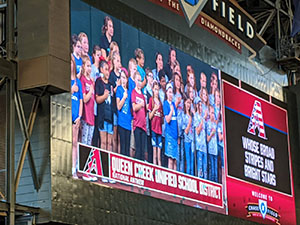 Since 2011, choir students in the district have sung the national anthem every year at Chase Field before a Diamondbacks game. What originally started with just one school eventually became a tradition, and soon other QCUSD schools joined.
Sarah Purcell, a music teacher at Faith Mather Sossaman Elementary, remembers receiving an email from the Diamondbacks asking if anyone was interested in singing the national anthem. "That first year, we were part of a group of 900 kids that sang from across the valley," said Purcell. She went on to say that the Diamondbacks decided the number of kids on the field was too great, and they shifted to focus on one school at a time. For a while, Queen Creek Junior High was the only QCUSD school that sang at Diamondbacks.
"In 2014, there were not enough kids at one elementary school to form a big enough choir," said Purcell. "I asked the other general music teachers if they wanted to join up for it, and now everyone comes!" Last week, more than 250 choir students stepped out onto the field before the big game.
"When I stepped onto the field, I felt amazed!" said Brenner, a student from Faith Mather Sossaman Elementary. "There were so many people there, and seeing ourselves on the jumbotron and the players on the field with us was cool."
QCUSD hopes to continue this tradition of singing the national anthem again next year.